Good Food
From Hamptons Lane comes this super delicious pancake recipe that would be perfect for a hot breakfast as cold weather (and snow in many parts of the U.S.) sets in.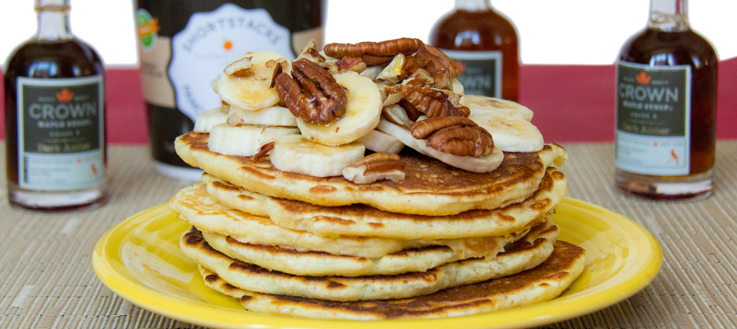 Image from Hamptons Lane
Bourbon Salted Pecan Pancakes with
Banana & Maple Candied Pecans
Recipe
Serves 4
Ingredients
2 cups Bourbon Salted Pecan Pancake Mix

2 eggs

1 ¼ cup whole milk

4 tbsp melted butter

1 cup pecans

¼ cup Dark Crown Maple Syrup

1 tsp sea salt

2 bananas, sliced
Directions
First, candy the pecans: Heat a cast iron skillet and add pecans, maple syrup, and sea salt and stir constantly until nuts are toasted and syrup is caramelized, about 3 minutes. Remove from heat and let cool. Take half of the pecans and chop roughly, then mix back in with the whole pecans and set aside.
To make the pancakes, pre-heat griddle to medium-high heat and grease with butter. Combine milk, eggs, butter, and pancake mix in a large bowl and whisk till combined. Ladle mix in 4-inch rounds onto griddle and cook till lightly browned on each side, flipping halfway.
To serve, stack 3 hot pancakes each on four plates. Top each with ¼ cup of candied pecans and half a banana, sliced. Drizzle Crown Maple Syrup on top of stack as desired. Devour immediately.
HL Tips & Tricks
Bananas not your thing? Try fresh blueberries, raspberries, or caramelized apples on top. If you are really into bananas, drop thin slices in the pancake batter as they are cooking on the griddle.
Your waffle iron has been collecting dust for too long! It's time for a hearty waffle breakfast with chunky Georgia pecans and sugary sauted apple topping. This recipe is decadent enough for the adults, and sweet enough for the kids.
About Hamptons Lane
Each month Hamptons Lane

provides the food lover with a new curated themed box filled with the kitchen tools, best ingredients, serveware and local artisan foods needed to enhance your culinary experience as chef, entertainer, and eater. Monthly Hamptons Lane boxes are $47 with free shipping.
For more information visit HamptonsLane.com or follow the brand on Facebook, Twitter, Pinterest and Instagram.
FTC Disclosure: The recipe and image in this post are sourced from Hamptons Lane. I did not receive any payment or other compensation in connection with this
post.
See complete FTC Disclosure information that appears at the bottom of MommyBlogExpert's main page and at the bottom of every individual post on this blog, including this one.